Corn snakes and kingsnakes are both common pet snakes. While both of these snakes are colubrids (members of the family Colubridae), they have a few differences.
Read on to learn more about these incredible snakes. No matter which you choose, they are both great options for new snake owners.
1. Size
Corn snakes are typically just a bit smaller than most species of kingsnake common in the pet trade. Your average corn snake stays around 3-4 feet long, with a few rare individuals reaching 6 feet.
They are typically thin snakes.
Kingsnakes can be around this size, but it varies depending on the species.
There are 9 species of kingsnake, several of which have subspecies. Please note, whether a snake count as a subspecies or a proper species is currently up in the air. 
This paper goes more in-depth on the topic. Many breeders are using older terminology for clarity or because of habit. The smallest of the kingsnakes rarely gets much longer than 18 inches, while the largest is over 6 feet.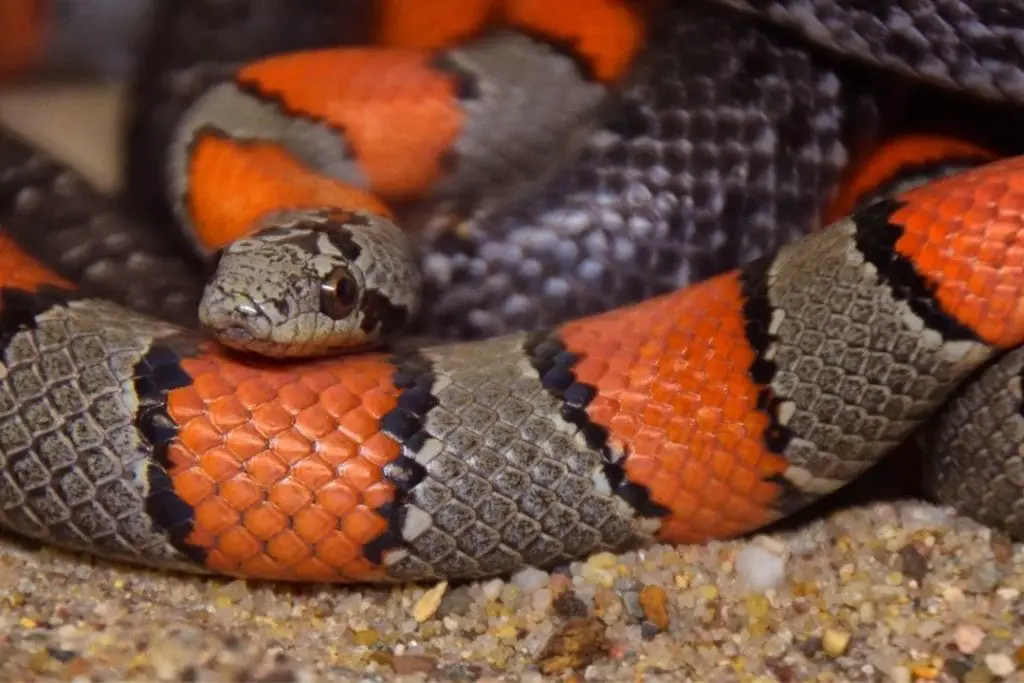 Do your research on the species the breeder claims a kingsnake is before you commit. The most common kingsnake available in the United States is the California kingsnake, which reaches 3-4 feet, though some individuals may be larger.
2. Coloration
Both corn snakes and kingsnakes are popular snakes.
They are readily available captive-bred and many breeders like producing unusual colors. The corn snake has more colors and patterns available, but the kingsnake has plenty of colors ranging from wild-type patterns to fancier colors.
Typically, these coloration differences are based on what pigments the snake expresses and at what level. A snake that lacks melanin won't have much or any black or brown in its pattern and may appear yellow, white, red, or orange.
A snake might also have more melanin and appear dark brown or black.
Snakes also typically have red and yellow for pigments, so you can have a wide variety of colors. Kingsnakes do come in interesting patterns, such as the common black and yellow snake, the scarlet kingsnake that mimics the venomous coral snake.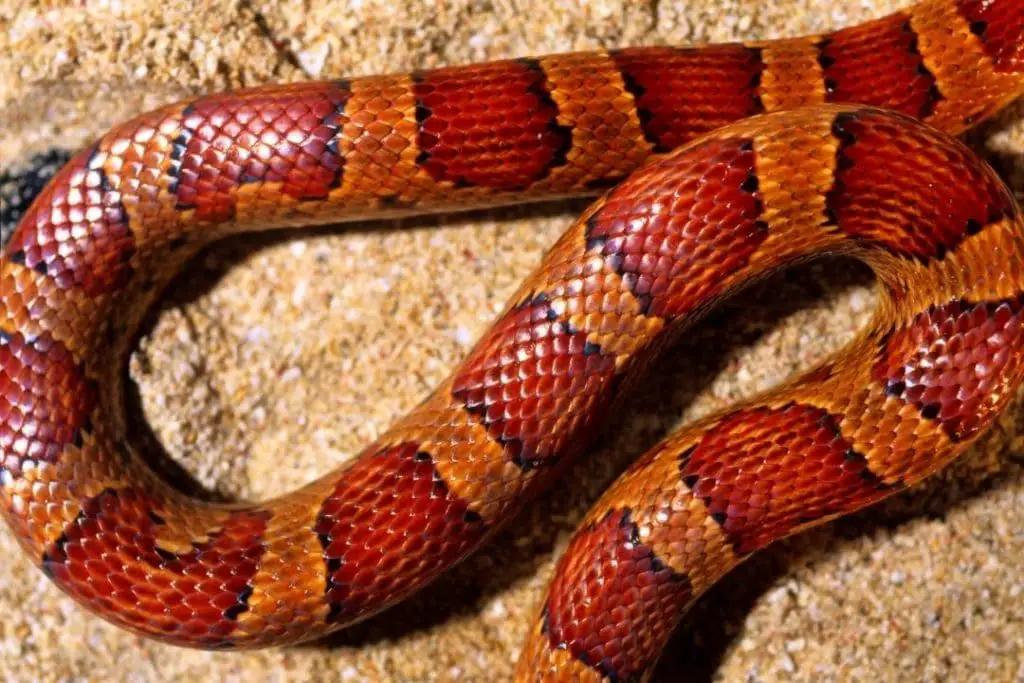 The Mexican kingsnake is typically all black, and California kingsnakes are typically banded with brown, black, white, or yellow.
If you want a snake with a more unique look a corn snake may be a better option. There are so many colors and patterns available that you are sure to find one you will love. If you like a more wild appearance in your animals, kingsnakes have more variety. 
3. Care
Corn snakes and kingsnakes can have similar needs depending on the subspecies.
This does depend on species. California kingsnakes and Mexican kingsnakes both live in temperate climates like corn snakes. Florida kingsnakes live in a subtropical climate and typically do better with more humidity and slightly warmer temperatures.
If you are even in doubt about how to care for a snake, look up where it lives in the wild. Then try your best to mimic the climate and conditions of that area. 
4. Natural Habitats
Kingsnakes are found all over North America. 
This is a good article that goes over the whole species. Since they are found all over the United States and Mexico, you can find them in nearly any habitat.
They can be found in forests, grasslands, and even rocky desert fields. California kingsnakes live in California, from the deserts to the mountains.
The common kingsnake shares a habitat with corn snakes over much of their range. Corn snakes prefer grasslands, copses of trees, and areas near farms. The Smithsonian's National Zoo has a good guide to these snakes in the wild.
5. Food
Both corn snakes and kingsnakes are voracious eaters that enjoy a wide diet in the wild. They will both eat rodents and supplement with bird eggs or chicks, amphibians, and small lizards. The difference comes from what gives kingsnakes their names.
Kingsnakes frequently prey on smaller snakes, even venomous ones. This makes them much like the king cobra, though all kingsnakes are nonvenomous.
Kingsnakes will happily eat any smaller snakes they have access to. This means they may strike if they smell other snakes on your hands, so be sure to wash thoroughly before handling them. Corn snakes won't hunt other snakes, but they might eat one if it is available or a rival for resources. They do share the colubrid tendency to eat nearly anything.
Some people have even had luck getting corn snakes to eat sausages made from whole prey items that are ground up. This may work with kingsnakes, though it depends on the individual. Look into it, since you can vary the snake's diet more easily and some people find it more appealing than feeding whole prey.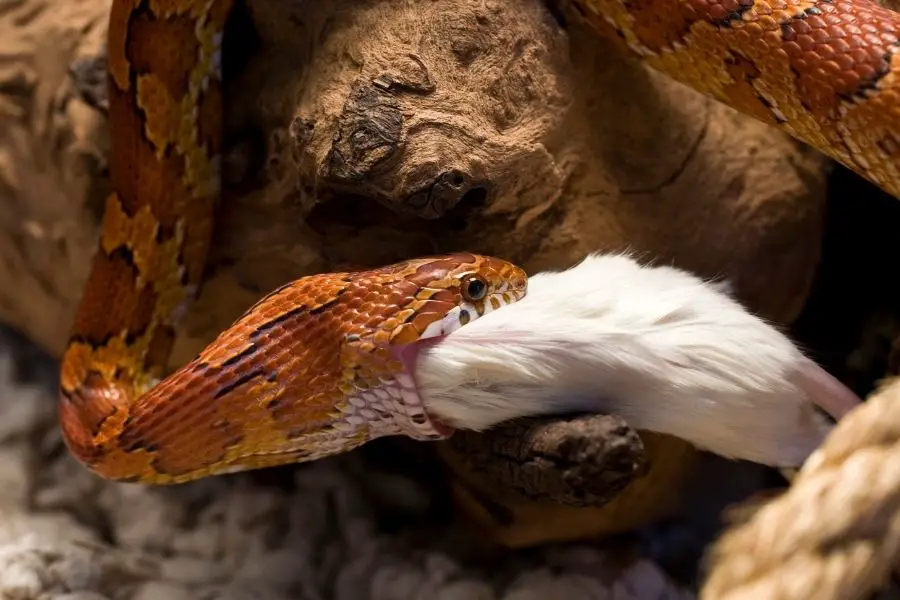 6. Temperament
This is one of the biggest differences between the two snakes. Corn snakes are typically docile and take to handling well. They will likely be content to chill out with you once they are used to handling.
Hatchlings will be more defensive and flighty though. Kingsnakes typically are known for both being a bit more curious and for larger personalities.
They are more likely to bite and use a foul-smelling musk as a defensive behavior more often. If you want a snake that is more content with handling and chilling out a corn snake is a better choice.
These are just guidelines since every snake will have its own personality. Some corn snakes never tolerate handling and some kingsnakes may be more content to hang out. It heavily depends on the animal so take these as guidelines rather than immutable laws.
Summary
While both corn snakes and kingsnakes are colubrids, they do have differences that may make you lean more toward one species for your next pet.
The best snake for you depends on what you want from your animal.
Corn snakes are typically a bit friendlier, but kingsnakes can be more entertaining to watch thanks to how curious they are. Since there are more species of kingsnakes in the pet trade, you will also see more variety in kingsnakes. Be sure to do your research when you are deciding on a pet. If you have kept either snake as a pet or both, be sure to comment below.