Red-eyed crocodile skinks (Tribolonotus gracilis) are great little animals.
However, it can be a struggle to find a captive-born and bred animal. This list will go over some breeders that can be found online.
We highly suggest checking out reptile shows if you want this species.
They are very sensitive to heat and do not always survive shipping since they will die if they get over 86 degrees.
Make sure any breeder is careful to ship when it is cool enough. Since they only produce one egg at a time, many breeders will not always have animals available.
You can always ask if they have a waiting list for getting the species. 
Red Eyed Crocodile Skink Breeders
United States
California
SoCalHerps is located in Play del Rey. They have skinks available occasionally, so check their page regularly to see when you may be able to buy your pet. 
Colorado
Kay & T's Geckos is located in Lochbuie. They occasionally have red-eyed crocodile skinks available on their Morph Market profile. Be sure to check often since this breeder is less active.
Florida
Kansas
Bernetta Shinkle is located in Derby and offers local pickup. If you get your skink shipped, they take extra care to give your skink the best chance of live arrival. You can find them on Morph Market. If there are no skinks available when you check, this breeder is responsive to questions and may have a waiting list. 
Michigan
Josh's Frogs is located in Owosso. They have captive-bred skinks available in addition to the many animals and supplies they offer.
They have generally good reviews for all of their animals. They also have good information for the care of many species and feeder insects. I highly advise buying one of their feeder kits to help keep your feeders alive longer. 
New Jersey
Garden State Exotic Pets is located in Matawan. They offer red-eyed crocodile skinks on occasion. Since they do offer pickup, we highly suggest this option if you can reach their location.
Shipping trucks get very hot and this species is very sensitive to heat. Be sure to check back often to see when they have crocodile skinks available.
Ohio
True Blood Exotics is located in Dayton. They have red-eyed crocodile skinks available occasionally. You can find them on Morph Market and Facebook.
Be sure to follow their Facebook so you know when they may have skinks available. 
Pennsylvania
ILLExotics is located in Philadelphia. They offer captive-bred red-eyed crocodile skinks and a number of other species. They also sell plants, so they can be a good source for setting up a planted enclosure for the species.
Be sure you follow their social media so you know when they may have animals in stock. 
Texas
Curt's Creatures LLC is located in Lubbock. They sell on Morph Market and offer domestically produced crocodile skinks. You can follow them on Facebook, Instagram, and Youtube to keep up with their animals. These are some of the best ways to catch when they may have babies available.
Reptile Pets Direct is located in Live Oak. They occasionally have captive-bred crocodile skinks available. We suggest asking if they have a waiting list or signing up for email alerts. 
Geckopia is located in Dallas. They specialized in leopard geckos and red-eyed crocodile skink. They are a great source for the species. 
Washington
Morph Central is located in Tacoma. They sell only captive-bred animals and ship to the US and Canada. This is a great choice if you are in the western half of the United States and Canada. Be sure you order when temperatures are safe so your pet can be safely shipped. 
West Virginia
Dave's Danger Noodles is located in Morgantown. They sell on Morph Market and you can find them on Facebook. Check their social media to see when they may have these skinks available. They are not the most common on their page.
Canada
Tails & Scales are located in Toronto. They are one of the best sources for red-eyed crocodile skinks in the country. You can import from other countries, but importing animals can be a hassle depending on your laws.
Live animals do not always do well in transit and this species is very vulnerable to heat and cold. This makes longer transit times uniquely dangerous for them.
UK
Online Sources
This is a list of other sources you may find helpful. Sometimes you just don't have a good option for reptiles locally. Online sources like classifieds and forums may help.
Try to google local reptile forums to give yourself a better chance of finding an animal you can actually acquire.
Some older breeders only sell through dedicated forums or through local contacts to make sure their animals will be treated well.
Forums are also a great source for advice, so you will have a good place to ask questions and find more opinions from experienced keepers.
FaunaClassifieds can be a good source for finding breeders who have a waitlist. Since the species is rare, some breeders only have a waitlist since all of their hatchlings are spoken for from the time the eggs are laid.
Local classifieds and reptile groups can also be a good source. You may not be able to find a breeder, but it is worth a shot and you may find someone who will be offering them soon near you. Many of these groups can also help point you in the right direction for any rare species.
If you are located outside of the US or UK, a local board may be the only way you can find a red-eyed crocodile skink. Be sure to make sure that they are legal in your region by asking your local officials.
Selecting a Breeder to Buy a Red Eyed Crocodile Skink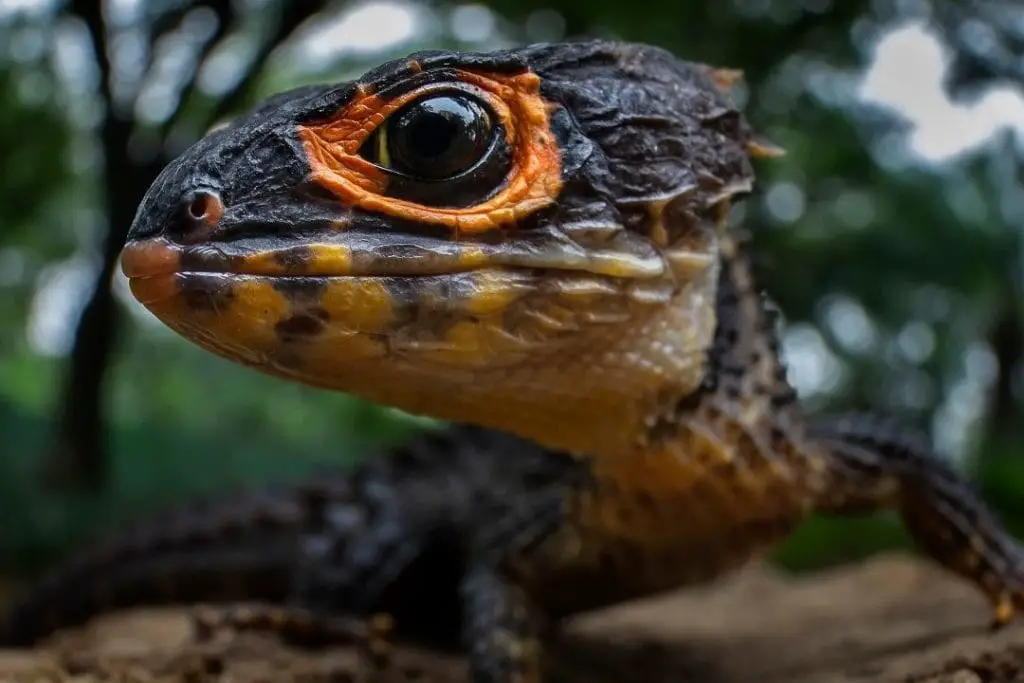 The biggest thing when selecting a breeder is to make sure they are actually a breeder. Some websites will sell imported skinks that may not be very healthy.
Some importers will treat animals for parasites and hold them long enough to make sure the animals are healthy, but you should always be careful. It is best to make sure your skink is captive-bred to make sure you are not risking wild populations.
You will also likely have a healthier animal that will adapt to captivity and live longer. 
A good breeder will be happy to answer questions.
They should know the basics of care and will want to make sure you know how to care for their babies.
They should respond quickly and be able to offer you pictures and videos of the animal you want to buy. They should be able to show you pictures of the parents.
The parents should look healthy and be in an appropriate enclosure for the species. Be sure to ask if the adults have been treated by a vet and if your potential pet has been seen yet. If it has, the breeder should be happy to offer the records for you. 
They should be very careful about when they will ship your skink. It should be packaged with plenty of padding and have heat or cool packs to keep the skink at the right temperature.
Ask if you can pick up your pet either from them directly at a location near the breeder or at a reptile show. This can help keep your skink safe since you won't risk the animal being shipped in a hot truck. 
It can be hard to find a captive-bred animal. You may be able to find a captive-hatched, which is the next best thing. Imported animals from farms can be a toss-up if they are going to be healthy.
Wild-caught or field-collected are basically the same. If you can only find these animals, you will need to take more steps to make sure your animal is healthy.
If you can only find an imported animal, here are a few special tips to make sure your skink has the best chance. First, ask where it came from.
It is not legal to export the species from New Guinea, but other countries do allow them to be exported. Be sure you only buy an animal that was legally imported.
Next, ask what veterinary care has been given to the animal. They should be examined for their health and treated upon arrival.
If you can see them in person, check the animal for signs of old injuries and parasites. Mites look like little bumps near the base of the scales.
An animal with internal parasites may not be very obvious, but it can lose weight and become underweight thanks to the parasites and stress.
If you are buying online, ask for images of the exact animal you want and look for signs of parasites or disease. 
If you end up importing your animal, you will need to make sure you have all legal issues sorted at both ends of the transaction.
Some breeders will ship to other countries. You should do your own research and talk to local officials so you know exactly what you need to do. You may need to pay extra fees as well, so be sure you prepare ahead of time so your pet doesn't end up being held for too long. 
How to Be Added
Are you a red-eyed crocodile skink breeder? We would love to have you on the list.
Please contact us on facebook and tell us about your business and your animals. The more information you can give, the better.